Nightscience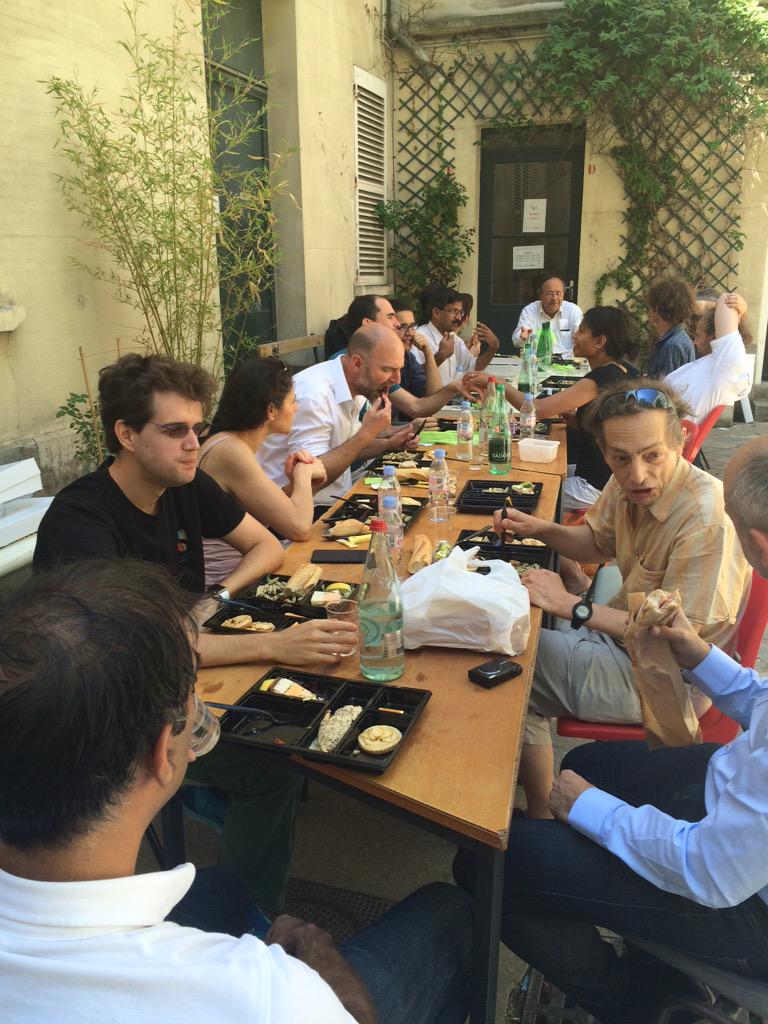 In July, TMC were in Paris to run a ThinkCamp at NightScience .
NightScience is a meet-up for the DIY Science / Open Science community. It's run by the Centre for Interdisciplinary Research (CRI) at the University of Paris and every year for the past four years it's been gathering together visionaries and practitioners in open science to share their ideas and experiences.
Nightscience is a great place to meet the people who are making Open Science happen. And CRI really do a fantastic job of encouraging collaboration. Their magic formula: get the right people together in one spot, and give them lots of space to share their stories.
As in past years, we were deeply impressed with the energy and vision of the speakers. This year's theme was "Equitable Access to Scientific Research and Education" and the speakers were for the most part advocates for open science who are also actively working in the field to make equal access a reality in schools and rural communities.
We thought this would be a great opportunity to grab some interviews for our Citizens of Science channel on YouTube, so we brought our media guru Julie Gould along to talk with some of the speakers about their work and visions for the future of Open Science.
Interviews
We spoke with Yogesh Kulkarni, who works with school children in rural communities in India.
Yogesh uses real-world challenges to teach science. He points out that solving real-world problems requires a wide variety of knowledge—an "integrated approach" which is different from topic-based learning. His approach is to show students how to look at real-world problems from a scientific angle and how to find the knowledge they need to solve them.
We talked with Michael Bon, the editor of the Self Journal of Science, about his plans for open publishing. His goal is to make a publication platform that rewards sharing.


Marc Chooljian told us about Tekla Labs, a graduate student group that publishes online guides for low cost open source lab equipment. The project aims at two audiences: scientists in developing countries, and science classes in schools. You can get involved by entering a Tekla competition or contributing your own designs.
James Carlson at the School Factory told us about his vision for transforming education through Makerspaces.
The School Factory is helping people set up collaborative learning spaces in the US—makerspaces, fab labs, and learning centres. James's vision is an educational system where you can't tell the difference "between school and not-school". He believes in designing learning around self-fulfilment. Further out, he thinks it might even make the world a better place to live.
FOaM is another initiative aiming at breaking down barriers to science. Amber Griffiths, director of FOaM Kernow, talked to us about their efforts in merging arts and science. Amber believes access to scientific knowledge is important both for science and for society at large. You can find them in Kernow, Cornwall, where, Amber tells us, they keep an empty desk for visitors.
ThinkCamp
On the second day of NightScience, we helped CRI organise a ThinkCamp.
The idea was to formulate challenges in "equitable access to science" which we would then work on as a group.
We were a diverse group, including, in addition to Nightscience participants, students from the Harvard Summer School and the GameLab Summer School at the CI.
We had practitioners tell us about the specific challenges they face.
David Ott from the @icrc giving us some field experience …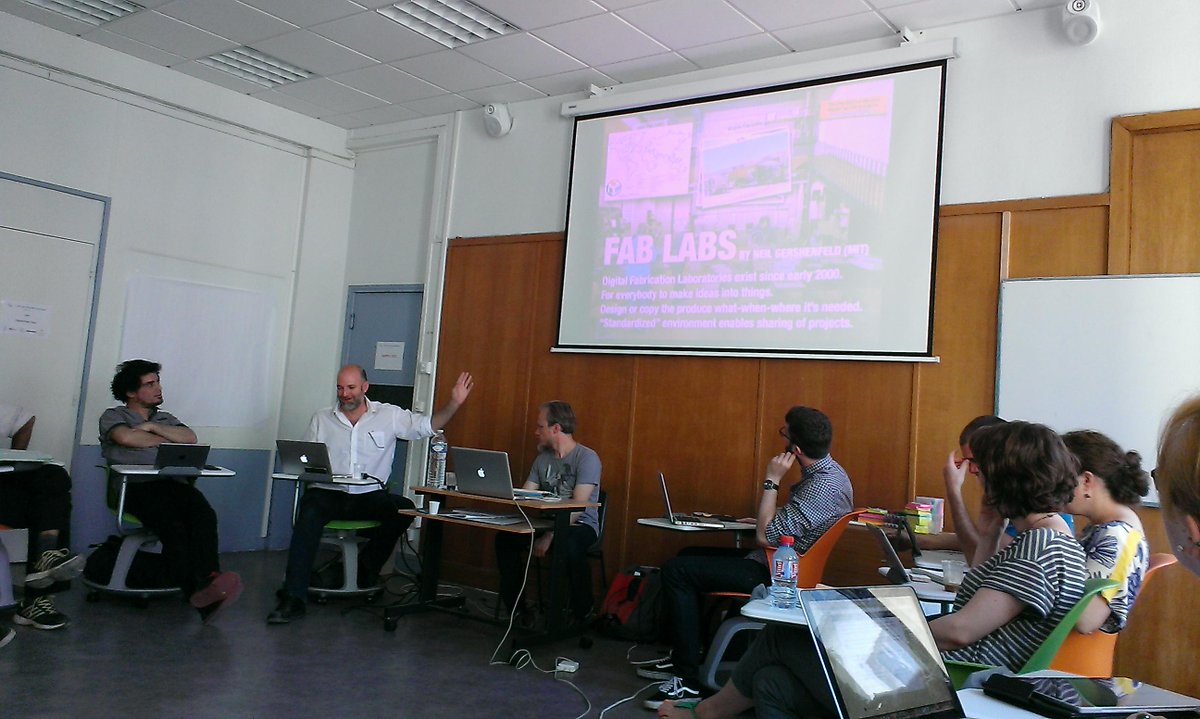 Cindy Regalado from UCL ExCiteS testing the percentage of protein using DIY spectrophotometers.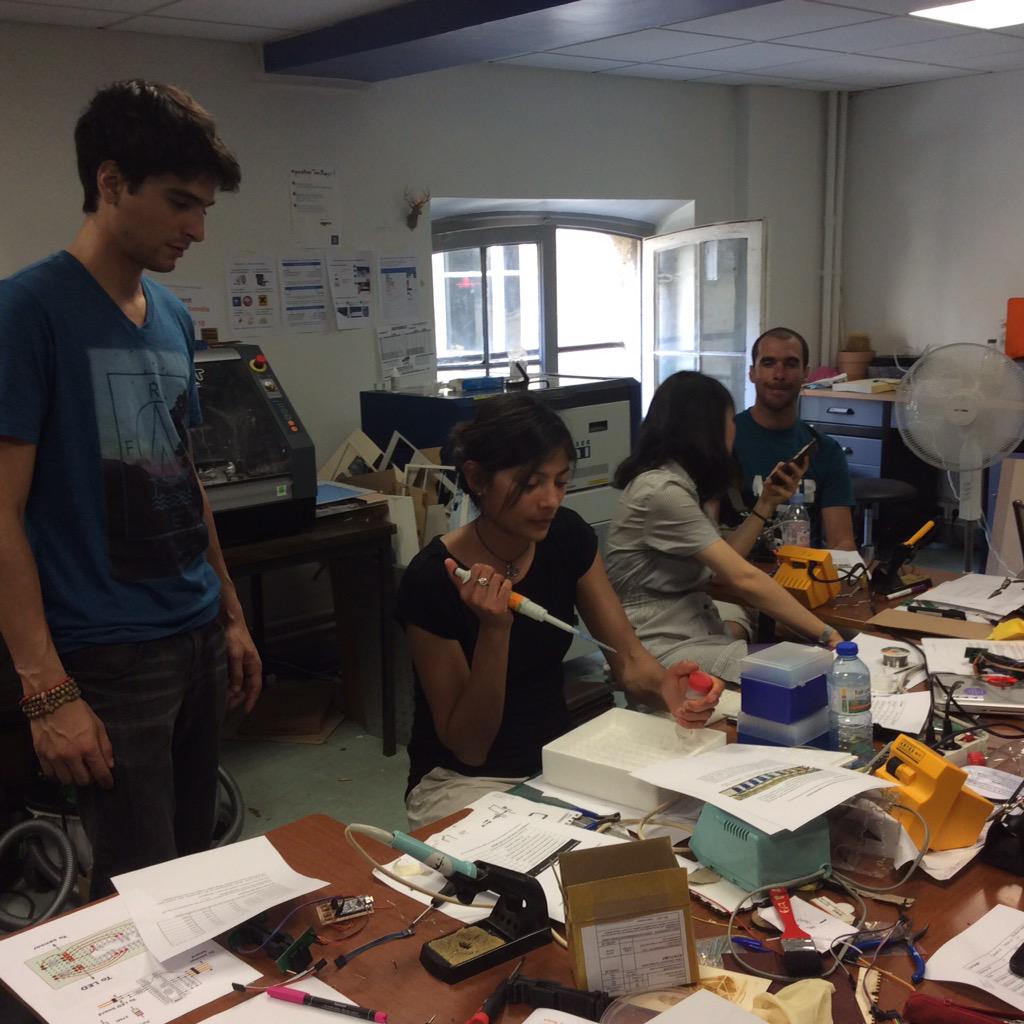 We also discussed two challenges.
The Mobile Fablab Challenge.
This was a challenge contributed by James Carlson (School Factory), David Ott (Red Cross) and Léa Fauquemberg (Ideas Box) to "help in adapting Fablabs to humanitary actions and development initiatives". The challenge was to design a fablab that would be "mobile, portable and frugal".
The Citizen Cyberlab Challenge.
The challenge was to design new projects using the Citizen Cyberlab suite of platforms for learning and creativity in Citizen Science. In particular, we looked at Geokey, a new platform for community mapping projects being developed by the ExCites group at UCL.
We're hoping the projects at the ThinkCamp will see some fruitful collaborations and new projects emerge. Check this space again next year to see what they come up with!
« Back to Blog